Game Of Thrones Live Concert Tour Announced
Ladyshub
12:15 PM

The sights and sounds of Game of Thrones will be brought to life in an immersive concert tour, it has been announced.
The US tour will feature a full orchestra and choir to illustrate scenes from the hit HBO show, which will be broadcast for fans on large screens.
Game of Thrones composer Ramin Djawadi, who announced the tour of 28 cities at a fan event in Los Angeles, said that state of the art technology would be used to take fans on a journey through the Seven Kingdoms.
He said: "I wanted something that takes you beyond just watching an orchestra play.
"I wanted to have an immersive experience.
"I think it will be very exciting and very interesting for the audience to not only hear the music again and have the music experience but also to actually see actual players perform with these instruments that they may not even know what they look like."
In a statement, Game of Thrones executive producers David Benioff and D.B Weiss said that the tour would be an "eye-popping, ear-splitting, phantasmagoric blend of the show's visuals and Ramin's powerful compositions".
Ramin Djawadi, who is set to conduct most of the concerts, added that during the gigs "things will be happening on stage that will enhance the musical experience".
He said: "It'll be a great thing for people to experience this in a live setting with their favourite show attached to it."
The Game of Thrones Live Concert Experience will kick off on 15 February in Kansas City, Missouri, before moving on to Madison Square Garden in New York City, the Forum in Los Angeles and other arenas across the US.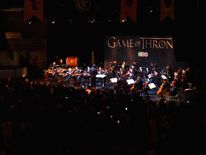 The award-winning series will return next year for its seventh series.
The show is based on the books by George R. R. Martin, who announced on Monday that he has another television adaptation in the works.
The TV rights to Martin's graphic novel anthologies, Wild Cards, have been acquired by Universal Cable Productions.
The 22-book series centres on the survivors of a fictional alien virus that struck New York City in 1946.